Sabrina to be celebrated in Stockport on Sunday 10th September
---
Stockport will be celebrating the life of its own Hollywood Starlet / Screen Icon / Blonde Bombshell  Sabrina on September 10th.
Events to celebrate her life have been scheduled for September 10th at both The Vintage Village at Stockport Market and The Plaza Super Cinema and Variety Theatre.
SABRINA real name Norma Ann Sykes who grew up in Stockport passed away peacefully at hospital in Los Angeles on Nov 24th 2016. She was 80 years old.
The events have been organised by Ted Doan of The Plaza Cinema, Alan Lowe of  The Vintage Village and Sabrina's close friend Stephen Page.
Events will include
At The Vintage Village: Up to 70 stalls of authentic vintage goods, screening of Sabrina's cult movie 'Satan in High Heels', and never before seen film footage of Sabrina on tour, plus a gallery of her own favourite photos, personal artifacts and items of clothing from her own personal wardrobe.
Her close friend Stephen Page will talk about her life and career and share her stories about her visits to Stockport, her superstar pals – Frank Sinatra, Liberace, her date with Elvis, The Hollywood 'Rat-Pack' and more!
The sensational Bexi Owen sings live throughout the day, plus a 'Best Dressed' competition with prizes. The suggested dress code for the day is – of course! – full-on, high-wattage 1950s glamour and pizazz!  Dress to impress and you may snag yourself a nice little treat to take home!
At The Plaza: Screenings of Pathé Newsreels featuring Sabrina which played to thousands of fans at the height of her popularity in British Cinemas across the Nation alongside a special presentation about the life and career of Sabrina during the Heritage Open Day which will this year be hosted in honour of her memory as a Patron of The Plaza and Stockport's own glamorous star.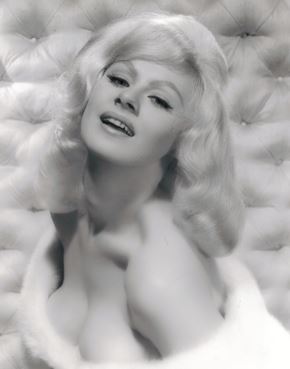 COMMENTS
Comment.  Stephen Page: Over the many years I knew Sabrina she often shared her fond memories of Stockport.  Especially of visits with her mother Annie to Bramhall Hall and Bluebell Valley.  She was a most remarkable brave lady and special friend who suffered many years of illness with great dignity.
She was previously honoured as both a patron of the Plaza Super Cinema & Variety Theatre and by The Vintage Village who paid tribute to her with a special 'Sabrina Day' back in 2012.
It is only natural and appropriate that her life celebration be hosted here in Stockport.
Ted, Alan and myself are hoping to work towards creating a future annual 'Sabrina Day' for Stockport which would both celebrate her life and benefit local charities.
Comment Ted Doan: Having been a fan of Sabrina's since I was a child it came as a wonderful surprise to discover she was a proud Stopfordian and an absolute personal highlight was talking to our icon of femininity when she called The Plaza to kindly agree to be a patron. Her support of The Plaza, saved by our community just over 17 short years ago and her care for the youth theatres that use the venue displayed a passion for the town where she was born and the people who saved, restored and now use Stockport's 1932 Super Cinema and Variety Theatre, a glamourous venue supported by one of the nation's most glamorous stars.
Comment Alan Lowe: We feel this remarkable lady who was a 'Stockport girl' should be remembered in a fashion she would have approved of, and where better to do this but in Stockport itself, at an event which will be true to the fashions of her time. We are proud to be involved with this 'Life Celebration' of our own Hollywood Starlet, Sabrina.
An official Life Celebration has been set for May 2018 At The Plaza Super Cinema with a day of screenings and events with a celebration concert. More news to follow.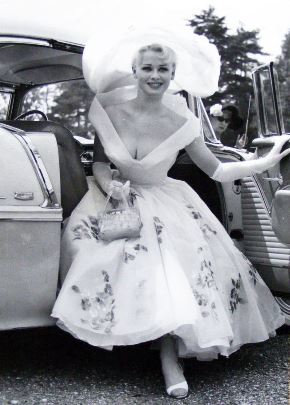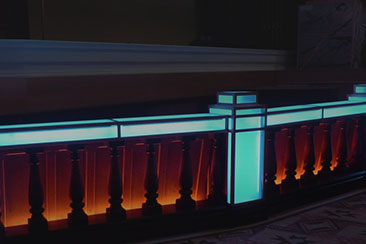 Support the Stockport Plaza
Help us to continue our restoration project with a one off donation via JustGiving.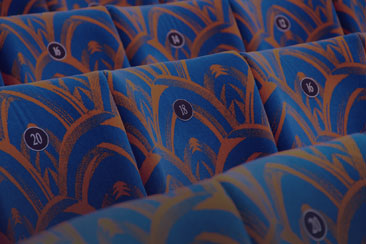 Sponsor A Seat
Share your support for the Plaza Restoration and Maintenance Appeal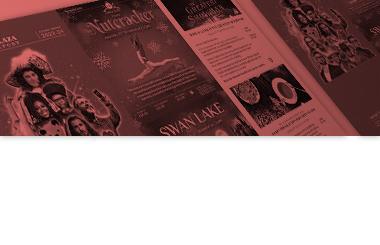 Download our latest brochure
Covering all our events