Restoration Update – 29.03.12
---
With every penny that you donate to the ongoing Maintenance and Restoration Appeal we are able to restore magnificent sections of your 1932 Super Cinema and Variety Theatre to its original glory and equally importantly your generosity enables us to retain the quality of restored areas for you and future generations to enjoy.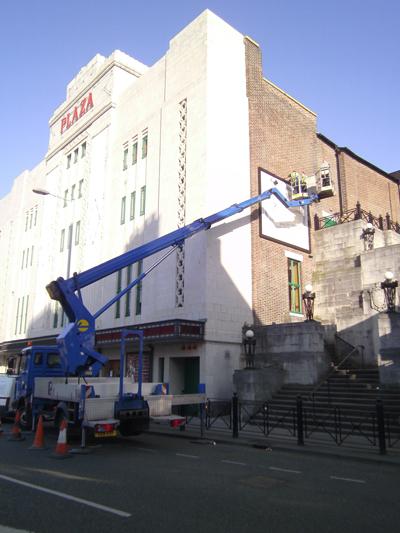 Since saving the Plaza from potential demolition in 2000 we have held many fundraising initiatives the most current of which are the 'Light Up The Plaza' Campaign which is close to its completion which will see the sumptuos lighting in the auditorium fully restored and working, whilst we have recently launched the 'Get Organ-ised' Fundraiser to raise funds for the repair of the Mighty Compton Organ, one of only three cinema organs remaining in its original location in the United Kingdom.
Thankfully within the funds raised we have been able to repair some works that had taken place during our recent restoration and had become damaged when two of our swan neck external light fittings on the side of Plaza became dislodged and inturn were shorting the light fittings plunging the external signage into darkness in the evenings.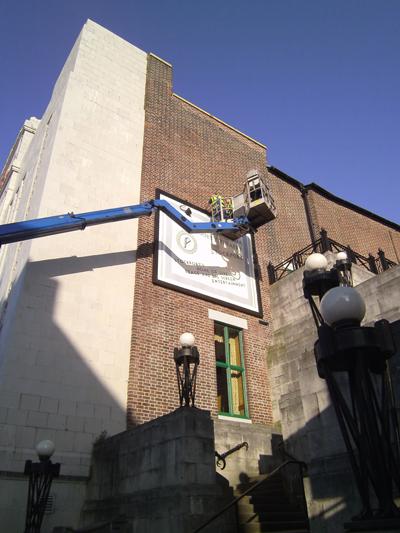 In the 1930's when these swan neck lamps were fitted there was little thought for Health and Safety so with a wing and a prayer the most energetic member of the maintenance team would have been sent up some extreemly tall ladders to make repairs or replace bulbs….thankfully times have changed so inorder to repair two of the brackets which had broken from their fittings and also replace the energy lamps damaged,an industrial 'cherry picker' was hired.
At over £400 an hour these cherry pickers are far from cheap but to ensure the safety of our electrician Neil and his team it was essential to get the correct tools for the job.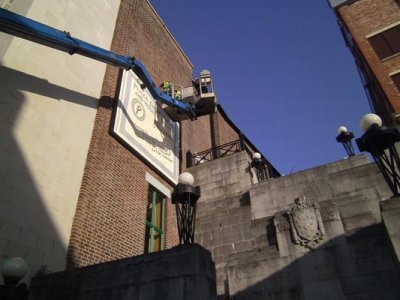 On a balmy evening in March, Neil and his team ascended to the top of the signage and after an hours expert attention the lamps were brought back to life to light up not only the Plaza steps but illuminate our wonderful signage welcoming our guests to the Super Cinema and Variety Theatre.
Within this web site are details on how you can support the ongoing Maintenance and Restoration Appeal of your Stockport Plaza and we thank you for any assistance in any way that you can give to keep our art deco gem shining through as a beacon for future generations to enjoy and learn how the legacy of our grandparents and parents was saved by our community today.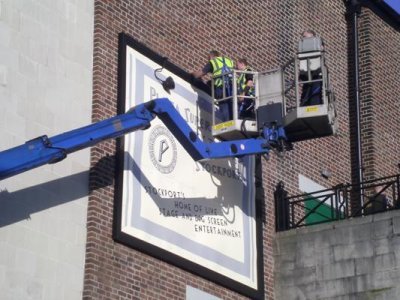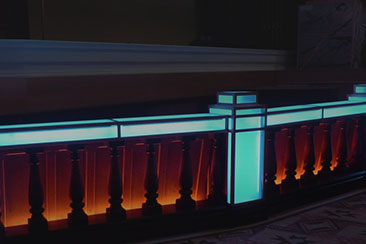 Support the Stockport Plaza
Help us to continue our restoration project with a one off donation via JustGiving.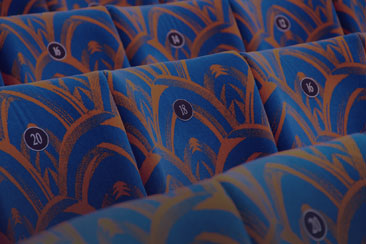 Sponsor A Seat
Share your support for the Plaza Restoration and Maintenance Appeal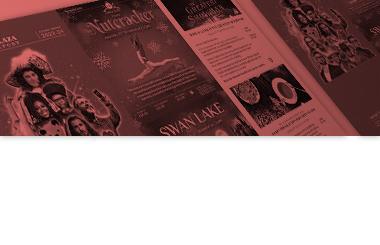 Download our latest brochure
Covering all our events