Attending Events
Coronavirus Update
The Stockport Plaza is currently closed until further notice.
Following on from The Prime Ministers Statement The Stockport Plaza is CLOSED and will remain so until a directive from the Government is received that venues such as The Plaza are able to reopen.
The Stockport Plaza has discussed with promoters of forthcoming events and attractions plans for the rescheduling where possible of events for future dates into 2021 and beyond whilst for events that have unallocated seating such as films, after Wednesday 18th March 2020 much of our forthcoming programme will be cancelled and we shall monitor the situation and re-open when it is deemed by the Government safe and appropriate to do so for our guests, performers and team.
Our Ticketing team are contacting all bookers for events regards changes to their ticketing requirements and we thank you in advance for your patience whilst all bookers are contacted.
Should you have any ticketing enquiries our Booking Team at Quay Tickets can be contacted via the Booking Line on 0161 477 7779 or via email at info@quaytickets.com
The Stockport Plaza and our ticketing providers Quaytickets will continue to follow the advice provided by the Government and Public Health England to ensure the safety of our visitors and staff at all times. At The Plaza we implemented prior to closure a number of additional visible and non-visible measures to help reduce the risk of infection which we shall continue to review and retain as and where it is appropriate to do so. We would, however, remind everyone of the importance of maintaining good hand and personal hygiene at all times.
Box Office
The Plaza box office located at The Plaza on Mersey Square is currently CLOSED for bookings in person and during the closure tickets for forthcoming events can be purchased on line or by calling The Plaza Booking Line – 0161 477 7779 (Booking Fee Applies)
Prices quoted in season brochures and promotional literature are for tickets booked in person at The Plaza Box Office only and all booking line and web site purchases are subject to booking fees.
CONTACT THE GENERAL TICKETING BOOKING LINE: 0161 477 7779
GROUPS BOOKING LINE: 0843 208 1495
ACCESS BOOKING LINE: 03333 202891
Online Booking
For your convenience The Plaza offers an on line booking service through our colleagues at Quay Tickets. Quay Tickets is The Lowry's ticket agency offering tickets for events at venues in Manchester and beyond. Quay Tickets offers competitive booking fees, an easy to navigate site and a professional personal ticketing service. The booking fees from Quay Tickets are not profits for shareholders and will contribute directly towards The Lowry's charitable and artistic objectives. To find out more about The Lowry, National Landmark Millennium Project for the Arts visit www.thelowry.com
Concessions
Many shows offer discounts for senior citizens (guests aged 65 years or over), students, children (aged 1 to 16 years of age) and the unemployed on the production of relevant proof of ID. Always ask the box office at the time of booking as we cannot discount on tickets already purchased. Only one concession is available per ticket.
Kindly note that to ensure the safe guarding of younger guests we require all children up to and including the age of 16 to have a responsible adult (over the age of 16) in attendance to accompany any children attending an event at The Plaza
Refunds & Exchanges
We regret that we can not refund or exchange tickets. The box office can try to re-sell them subject to a £1 per ticket exchange fee, on the understanding that the sale of the Plaza's own available seats takes priority.
Conditions of Sale
1) The Management reserves the right to make alterations to the advertised cast and programme; not to admit latecomers until the interval; to refuse admission; to provide alternative seats to those purchased of the same of greater value.
2) Tickets are purchased for personal use only and are not purchased as any form of business or commercial activity. All tickets are non-refundable. Tickets may not be resold or offered for resale by anyone at a premium or otherwise. Resale or attempted resale is grounds for cancellation without refund or notice.
3) Use of photographic, sound recording and mobile communications equipment is forbidden.
4) Patrons must state discounts they are entitled to at the time of booking, as they cannot be applied retrospectively and are subject to availibility.
5) When processing your booking the Box Office will ask your name, address, email address and telephone number. This information may be used to keep you informed of forthcoming events at The Plaza with your agreement.
6) The Plaza reserves the right to refuse admittance to unaccompanied minors.
7) Productions do not always contain live music.
8) All information correct at the time of going to press.
9) Up to £1 of the ticket price paid for certain shows goes to The Plaza Building Improvement Fund.
Security Information
Your safety and security is important to us and The Plaza has a series of visible and discreet security measures in place 24 hours a day.
All bags may be subject to security searches prior to entry to the building. As such, we would ask that you refrain from bringing large bags to the venue as this could cause delays to your admittance.
If you are attending a theatre or cinematic performance, please kindly ensure that you arrive with plenty of time for these security checks to take place, particularly so if you also have to collect tickets from the Box Office counter, which can be very busy prior to any event.
Our security measures are under constant review and we reserve the right to change arrangements at short notice.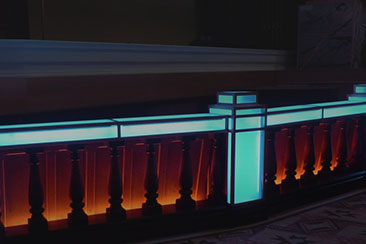 Support the Stockport Plaza
Help us to continue our restoration project with a one off donation.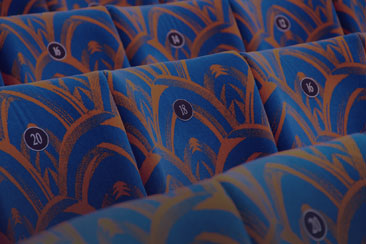 Sponsor A Seat
Share your support for the Plaza Restoration and Maintenance Appeal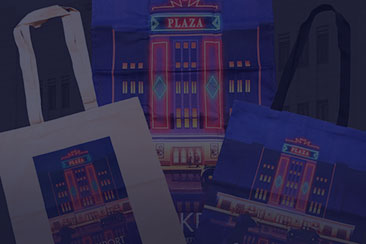 Merchandise
All sales contribute to restoring and maintaining our award winning Art Deco gem.